In contrast to O-rings, which are perfectly round shapes called toruses, flat O-rings are round shapes with flat sides called toroids. Flat O-rings perform similarly to O-rings in that they are used for gasket and high-pressure sealing applications. However, some spaces are unsuitable for sealing with round O-rings. The way flat O-rings are made is intended to seal areas with similar shapes effectively. Square or lathe-cut rings are other names for flat O-rings. Read More…
Flat O-Rings
Flat O-rings, also called lathe cut and square rings, are sealing rings with square or rectangle profiles, called torus shapes, that are used as alternatives to the standard O-Ring shape.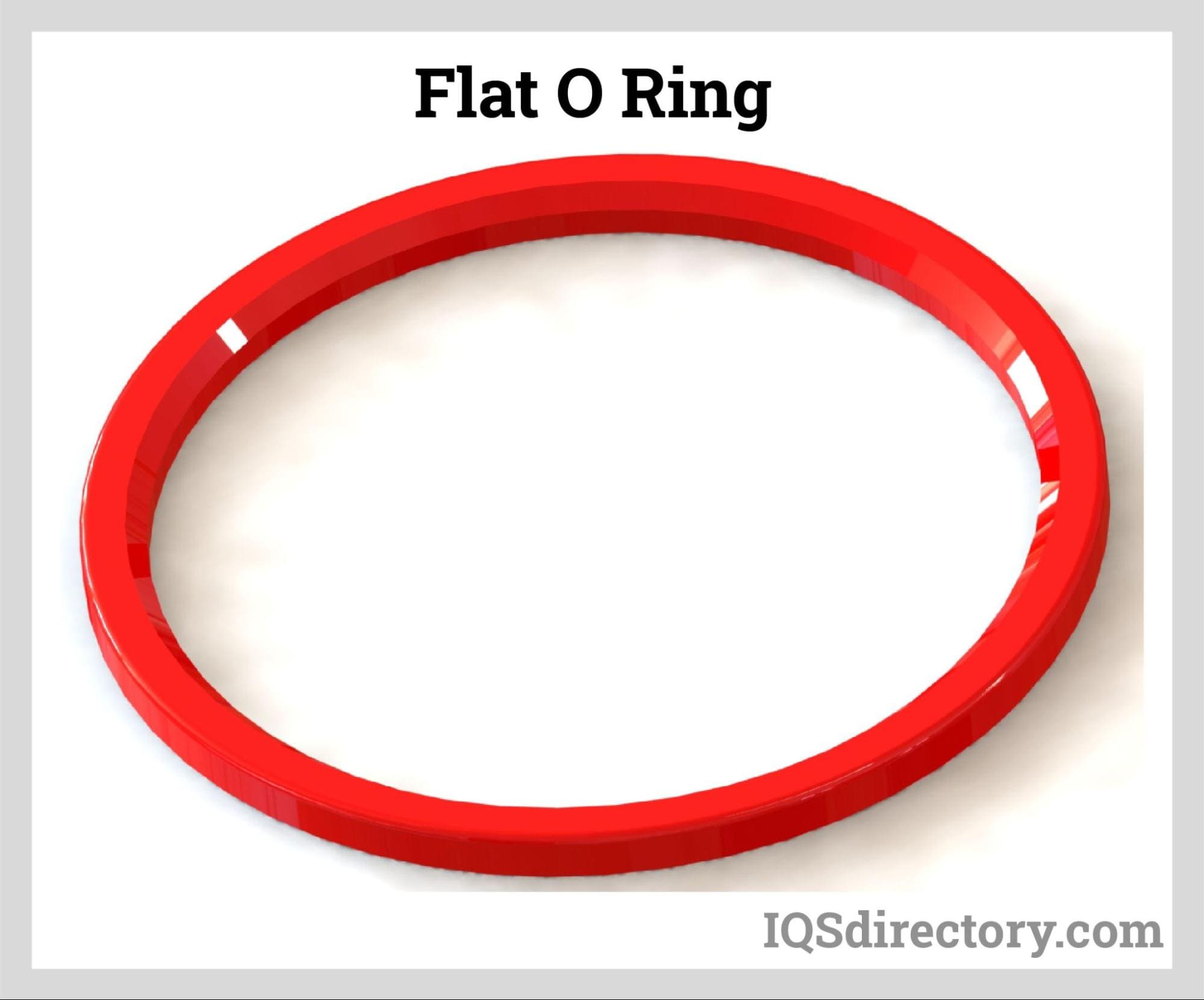 Manufacturing Process of Flat O-Rings
Flat O-rings with square or rectangular cross-sections are made by cutting them from extruded tubes or extruding them from a mold with a square shape. Flat O-rings are shaped by curing procedures, including trimming or knife cutting. To change the chemical composition of the finished product, chemicals are added to the raw material while it is still molten. Machines with specifically shaped blades are utilized to perform the cutting and trimming operations to produce precise product replicas. Die cutting is another name for this procedure.
Applications of Flat O-Rings
O-rings are a very adaptable part. They have numerous uses, including as a leak barrier, a cushion, and a screw support. There are many applications for O-rings, whether they are flat or round. These are some of the uses:
Fishing
Flat O-rings are employed in a variety of industries, including fishing, where they are used to stabilize bait. Instead of using the bait as the hook, the O-ring is slipped around the bait and hooked. Live bait is kept alive and more likely to draw fish if an O-ring holds it. Depending on the size of the ring, they can hold live bugs, live worms, or chunks of meat. Furthermore, using a flat O-ring lessens the possibility of the fish hooking the bait and slipping off the hook. This strategy has advantages for fishermen because it reduces the frequency of bait replacement.
Ring producers advise using flexible rings composed of rubber or flexible plastic for fishing applications. Flat O-rings that lack flexibility are more prone to break during fishing. Because they are non-toxic and won't pollute the fish's body with toxins, polyurethane, latex rubber, and silicone are excellent materials for fishing applications. Some manufacturing businesses produce O-rings specifically for fishing because flat O-rings can be useful in this industry.
Transportation
Flat O-rings are essential for sealing the various fluids that are a component of the systems in buses, trucks, and automobiles. The various fluids included in automobiles include fuels, refrigerants, and lubricating oils, each of which has a particular operating temperature and rate of consumption. They serve as a sealant and leak prevention measure for braking systems, engine lubrication, and transmission fluids.
Aerospace
Flat O-rings play a crucial role in the design of airplanes because they shield jet engines from dangerous circumstances and large temperature swings. Each of the thousands of O-rings used in commercial aircraft is created to carry out a specific task, such as adjusting to extreme pressure variations, harsh lubricants and fluids, and abrupt temperature changes. To fulfill the rising need of the new conditions, new flat O-ring compositions must be developed due to changes in aircraft design. O-rings can now withstand operating temperatures of above 275 °F (135 °C) thanks to modern designs and improved compounds.
Benefits of Flat O Rings
Flat O-rings are sandwiched between two machine body components and act as a sealing mechanism during construction. However, flat o-rings do not require as much pressure or squeezing to function as their other o-ring cousins do. Therefore, when it comes time to replace them, they are simple to remove, considerably reducing maintenance downtime. Additionally, they require less friction, which results in less wear and tear and does away with the need for lubrication.
Flat O-rings benefit from these qualities by lasting much longer and being less expensive, especially in applications where abrasion is a major problem. Because they have corners, flat O-rings can be used in addition to round O-rings to seal off spaces where the former cannot. For instance, as flat O-rings have a bigger surface area and offer better coverage when screwed, they can be employed as a seal between an automobile's oil filter and oil housing. For most other applications, flat and round O-rings can be utilized interchangeably, except for certain situations.
Design and Customization of Flat O-Rings
Thermoplastic polymers and elastomeric rubbers, including silicone, Viton, and Teflon, create flat O-rings. In comparison to standard O-rings, flat O-rings' four-lobed design doubles their sealing surface. Additionally, they feature a smooth surface texture, thermal conductivity, tensile strength, a wide temperature range, and the capacity to seal under high pressures. However, they need to go through a different step in the fabrication process than other kinds of O-rings, which only go through molding. As a result, flat O-rings are harder to find than other types.
Choosing the Right Flat O-Ring Manufacturer
To ensure the most positive outcome when purchasing flat O-rings from a flat O-ring manufacturer, it is important to compare several companies using our directory of flat O-ring manufacturers. Each flat O-ring manufacturer has a business profile page highlighting their areas of experience and capabilities, along with a contact form to directly communicate with the manufacturer for more information or request a quote. Review each flat O-ring business website using our proprietary website previewer to quickly learn what each company specializes in. Then, use our simple RFQ form to contact multiple flat O-ring companies with the same form.
Flat O-Rings Informational Video